Everybody has their friends and favorite sites and I'm no different. Here are a few of my favorite things:



PVP is the absolute funniest strip on the web, bar none. While the premise is about the daily goings on at a fictitious gaming magazine, PVP will rip not only on electronic gaming and the gaming community, but all gaming and gamers as well as popular culture, comic books, growing older, puppy love, and office politics. A daily must-read.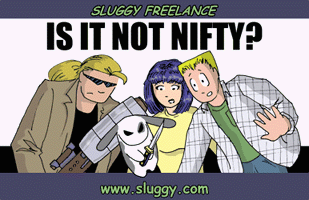 Sluggy Freelance is my other web strip addiction. The granddaddy of webstrips, Sluggy has been dealing with the ridiculous and the sublime since 1997. Rich in character history and often only funny if you know the backstory, Sluggy is still well worth the hours you will put in reading the last few years worth of strips. The Fire and Rain storyline alone is worth the effort.



Scott McCloud is the writer/illustrator of the classic comic book "Zot", the author of "Understanding Comics" and "Reinventing Comics", and a visionary when it comes to the future of comics, the web, and comics on the web. His website and philosophy are both fascinating - be sure to check out the "24 Hour Comic Experiment" section.



Strangers in Paradise is a comic book like no other and is my favorite read. David loves Katchoo, Katchoo loves Francie, Francie loves Katchoo but can't get over the fact she's a woman, and that's just the first three issues. The collected editions read like printed movies. The comic for people who don't read comics.